Spicy Jalapeño Margaritas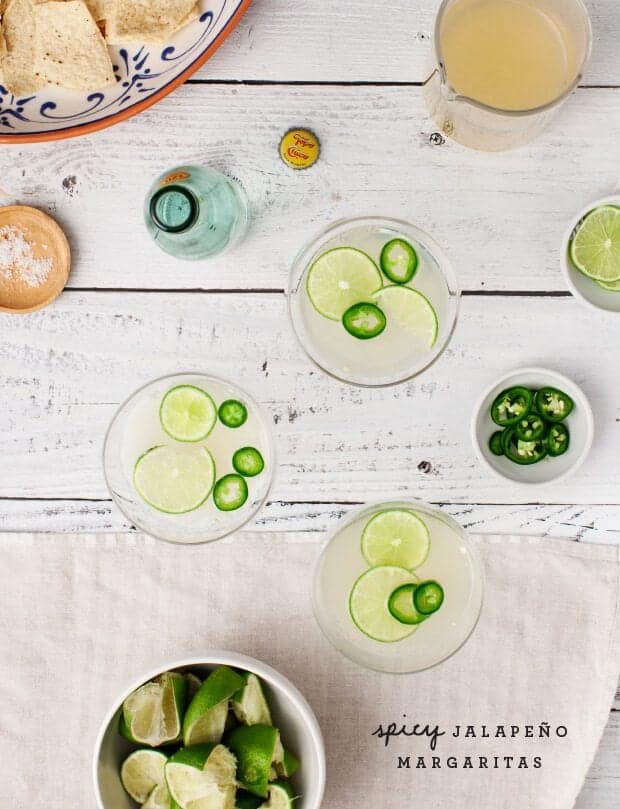 We're getting the weekend started a little early today with my favorite late summer drink. It's been nearly 100 degrees around here lately – and to that I say, let's make it hotter! Bring on the jalapeños…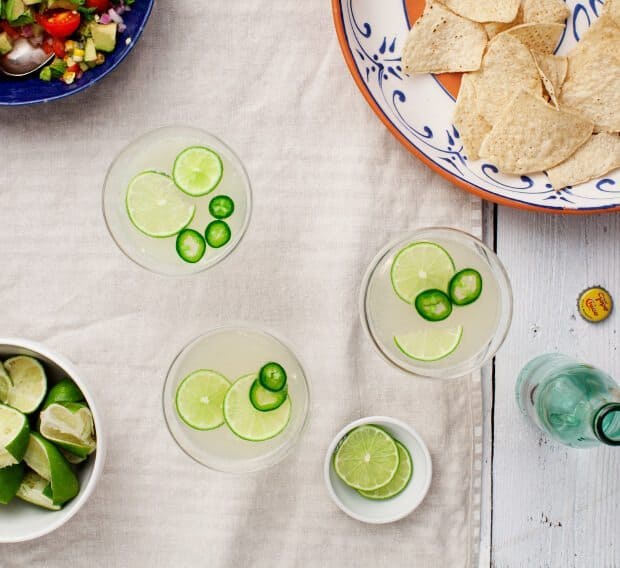 My #1 rule of margaritas is to never use margarita mix. Fresh limes are a must. My #2 rule: mess with this recipe and make it your own. Adjust the ratios to make your margaritas as sweet, sour and/or spicy as you like. (I always like mine on the tart & spicy side). Double the recipe if you're having friends over.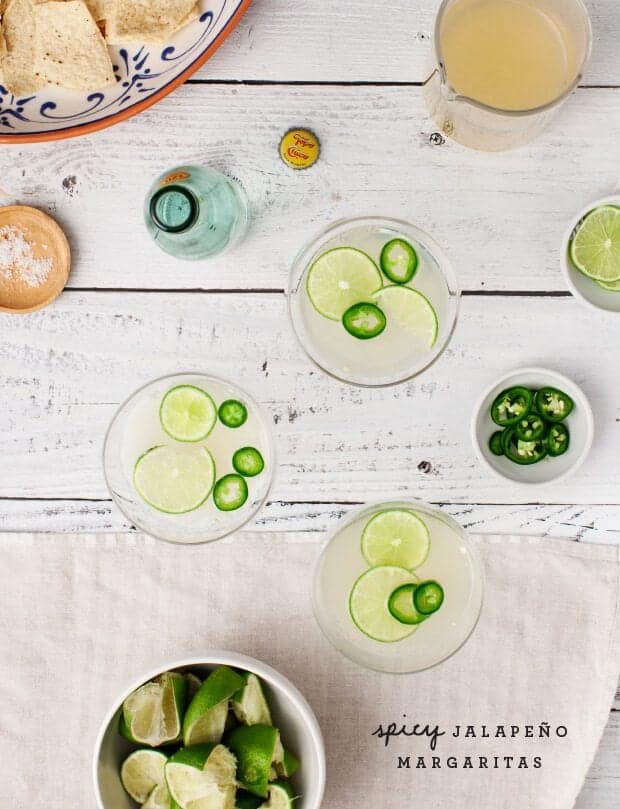 ¾ cup good tequila
¼ to ½ jalapeño pepper, plus extra slices for garnish
¼ cup Grand Marnier
½ cup fresh lime juice, plus lime slices for garnish
¼ cup simple syrup or fresh squeezed orange juice
a few splashes of sparkling water
handful of ice
Pour the tequila into a mixing glass or small pitcher. Add the sliced jalapeño, ¼ to ½ of it, depending on how spicy you want your margaritas. Set aside at room temp for 15 minutes (the longer you let the jalapeños infuse, the spicier it will be).
Make the simple syrup. In a small saucepan, combine equal parts of sugar and water. Bring to a boil, stirring until the sugar has dissolved. Chill in the fridge until ready to use. You can store any extra in the fridge for up to a few weeks.
Make the margaritas by mixing together the jalapeño-infused tequila, Grand Marnier, lime juice and ¼ cup simple syrup. Taste. If you'd like a spicier margarita, add more jalapeño and let it it sit a little longer. Pour into glasses and add lime slices and jalapeños for garnish. For a lighter margarita, fill the glasses ½ full and add sparkling water.
This post is sponsored by Crate & Barrel. Products pictured: Castilo Round Platter / Coupe Cocktail Glasses

If you make this, let us see! Tag your photo with #loveandlemons on Instagram.