Almond Breeze Brunch Workshop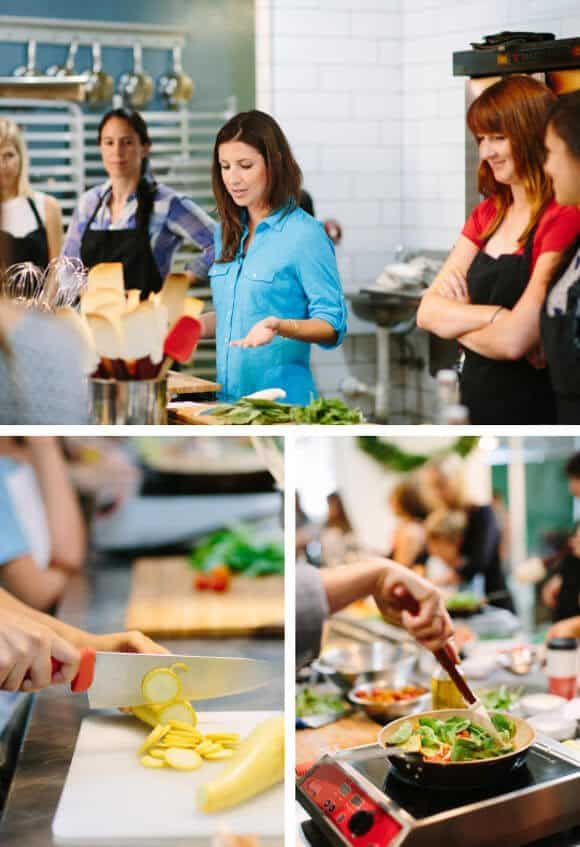 Happy Friday! I hope you have brunch plans this weekend, because today I have a little brunch recipe inspiration to get you started…
Last weekend, we flew to California to host this super fun brunch cooking class with Almond Breeze. It was a blast getting to meet & cook with a few fans of the blog (of all ages!). First we made my favorite frittata recipe with summer squash, cherry tomatoes and basil. This is a great easy recipe, especially with the abundance of late summer produce that's in season right now.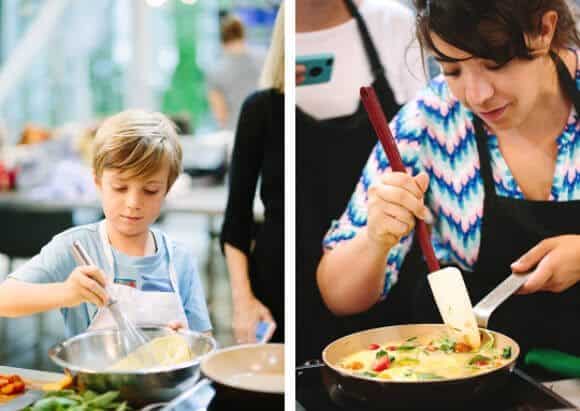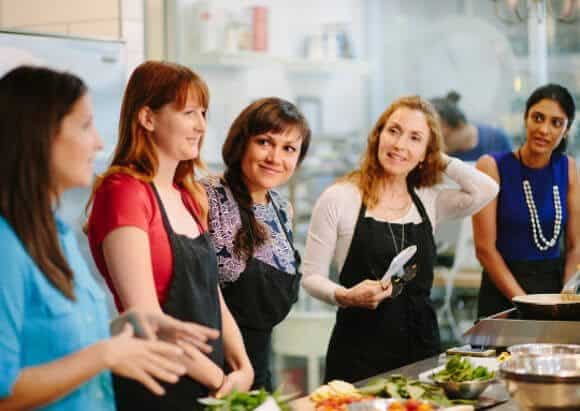 Of course we couldn't have an almond milk party without smoothies. At the class, we made super fruity Emoji smoothies. What is an emoji smoothie, you ask? It's an instagram-able smoothie where the combinations are based on your favorite little phone icons!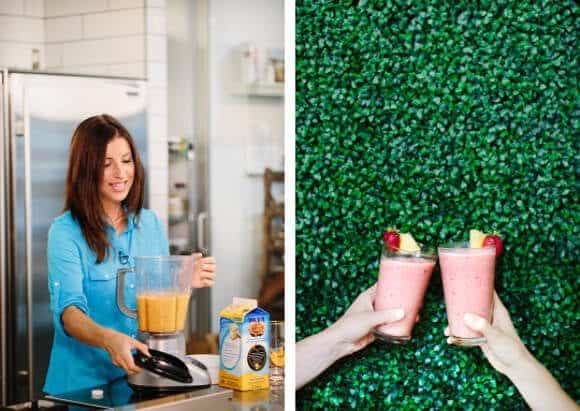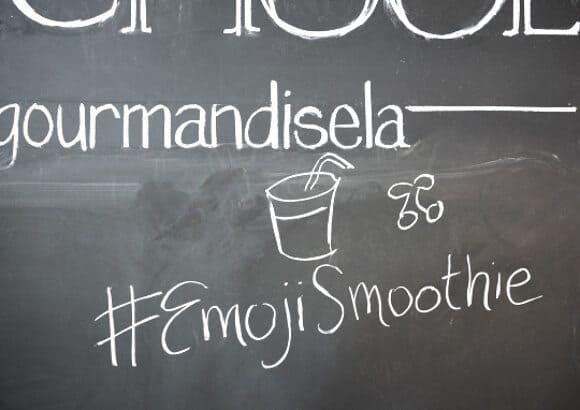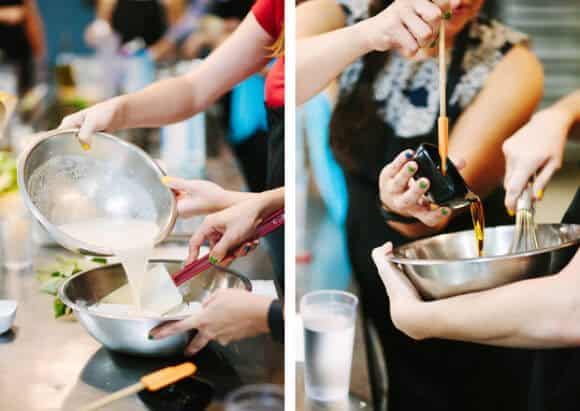 And for a sweet treat – waffles! We made these vegan waffles which are made with whole grain spelt flour. The recipe uses flaxseed meal instead of egg, coconut oil instead of butter, and they're sweetened with maple syrup. Everyone mixed their batter and took turns at the waffle irons before moving on to the topping bar – a.k.a. the "take the picture of your waffle" area.
Steal this waffle bar idea for your next brunch party: set up a bunch of toppings (yogurt, assorted fruits, maple syrup, etc)… have your guests mix their own waffle batter and then and top them however they like!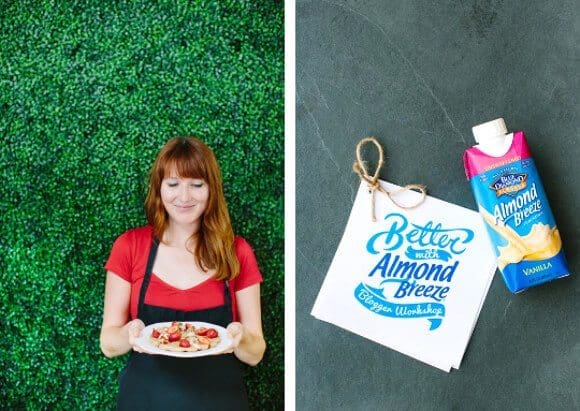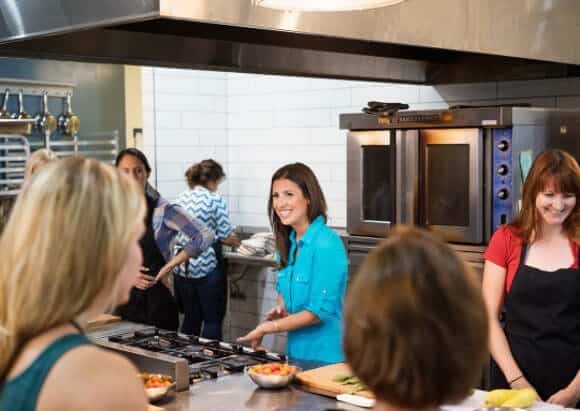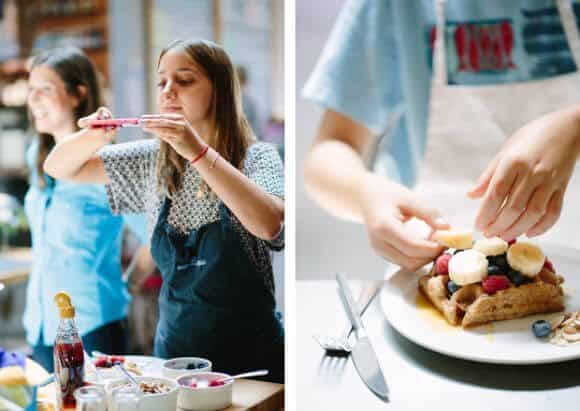 If you make these recipes, tag your photo with #betterwithbreeze on Instagram!
Summer Tomato Basil Frittata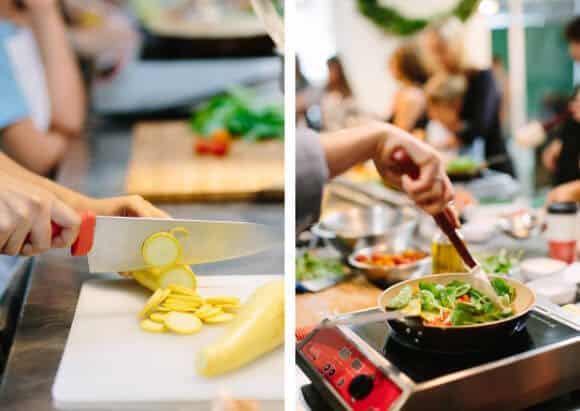 6 large eggs
½ teaspoon extra-virgin olive oil
1 small shallot, chopped
1 garlic clove, minced
¼ teaspoon smoked paprika
1 small yellow summer squash or zucchini, sliced into coins
1 cup fresh spinach (a big handful)
1 cup halved cherry tomatoes
¼ cup chopped chives
⅓ cup loosely packed chopped basil
Sea salt and freshly ground black pepper
½ cup crumbled feta cheese (optional)
Preheat the oven to 375 degrees.
Whisk together the eggs and Almond Breeze with a pinch of salt. Set aside.
In a medium skillet, heat the olive oil over medium-low heat. Add the shallots, garlic, and a pinch of salt and cook until soft. Add the smoked paprika, zucchini, spinach, and a few generous pinches of salt and freshly ground black pepper. Cook for another minute or so, until the spinach begins to wilt. Stir, then add the egg and almond milk mixture, the tomatoes, chives and feta, if using. Transfer the skillet to the oven and bake for 20-30 minutes or until the eggs have set.
Using a potholder, remove the frittata from the oven and let it cool for 10 minutes. Top with fresh basil and freshly ground black pepper and serve.
Whole Grain Vegan Waffles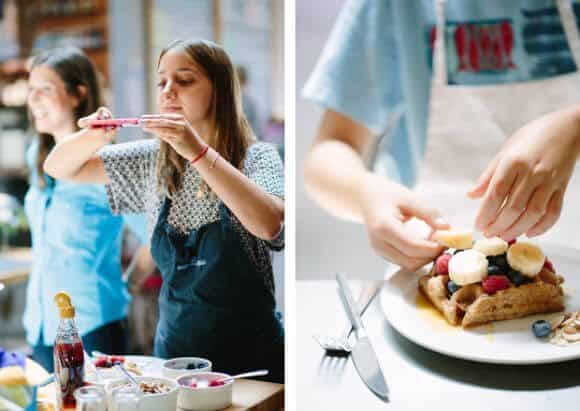 1½ cups Almond Breeze Almondmilk Original, at room temp
1½ tablespoons apple cider vinegar
¼ cup melted coconut oil
2 tablespoons maple syrup
½ teaspoon vanilla extract
2 cups loose-packed spelt flour
2½ teaspoons baking powder
2 tablespoons ground flaxseed meal
½ teaspoon cinnamon
tiny pinch of sea salt
Preheat your waffle iron.
In a medium bowl, mix together the Almond Breeze, apple cider vinegar, coconut oil, maple syrup and vanilla.
In a large bowl, mix together the flour, baking powder, flaxseed meal, cinnamon, and salt.
Pour the wet mixture into the dry and mix until just combined.
Scoop batter into your waffle maker and cook for the length of time required by your waffle maker (mine takes 3-4 minutes).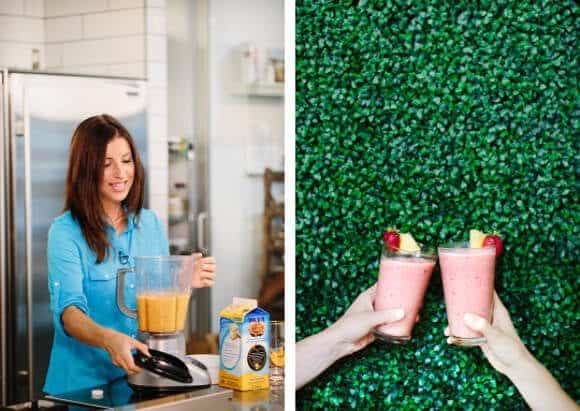 ½ frozen banana, orange (juice + zest), peach
½ frozen banana, strawberry, pineapple
watermelon, strawberry, grape
cantaloupe, orange, watermelon
Add ½ cup Almond Breeze (any flavor) to a blender with a big handful of each fruit. Blend, adding more almond milk, as needed. Add a handful of ice, if desired.

If you make this, let us see! Tag your photo with #loveandlemons on Instagram.